Zoom & GoToMeeting Integration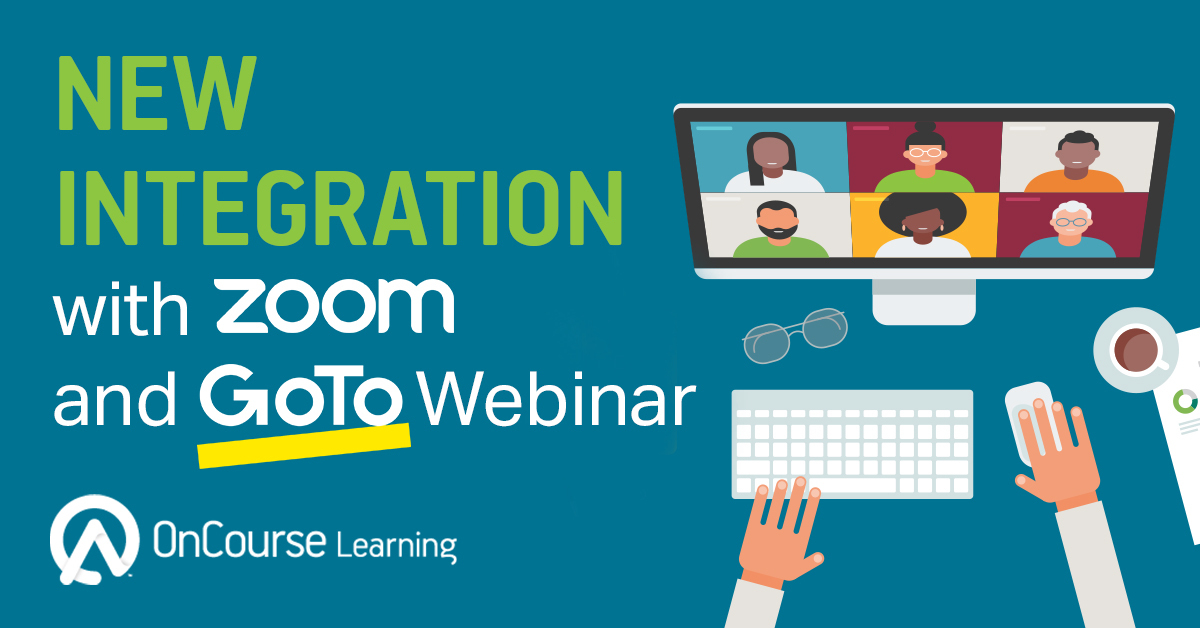 Connect your existing Zoom or GoToWebinar platform
Reduce the need for your students to log into multiple platforms when you integrate OnCourse Direct with Zoom or GoToWebinar. Other benefits include:
Designate instructors to host and launch events

Allow users to join virtual events directly from their My Training

Track and report on all attendance

Video conferencing

Screen sharing

Whiteboards

And more!
New Product Announcements
Customer service is about providing value to your customers throughout their entire experience with your institution. This Customer Service series will train your employees on customer service best practices to help you retain your customers, control customer frustration, respond to inquiries more efficiently, and increase your institution's overall customer satisfaction.
Regulatory Compliance Updates
There have been several regulatory compliance updates and hot topics in the financial services industry. We've rounded up some key updates and how they will affect you and your financial institution going forward.
Bank & Credit Union Updates
FRB/CFPB: 2023 Exemption Thresholds Increased for Regulations M and Z

FinCEN: Schedule for CTA Implementation

FRB/OCC/CFPB:2023 Threshold Increased for Smaller HPML Appraisal Exemption

Fifth Circuit Panel Vacates Payday Lending Rule

FHFA: Two New Credit Score Models

FHFA: Appraisals Data File Published

CFPB: Guidance on OD and Returned-Check Fee

FinCEN: GTOs Renewed and Expanded
Mortgage Updates
Current Fair Lending Issues

Selling in a Rising Rate Environment

Lending Hot Topics

Dealing with Appraisals: Regulations and Requirements
Article
Assuring Your Financial Customers as Interest Rates Increase
Customers are bracing themselves for an interest rate increase. They are anxious, nervous, and worried for what this means for them.  And with talks of another increase happening soon, and more to come, customers are rightly worried.  What are you doing to re-assure your customers you are in this together?
Article
Succession Planning During the Great Resignation
Employees are vacating the workforce at alarming rates. There are several factors for this. Retirement, stress, burn-out, and even content workers are looking for better offers.
Article
Q & As with A Banking Exec- What it is Really Like to Work at a Financial Institution
With employees working remotely as well as in the office, financial institutions still need to build strong partnerships and engage their employees.
Article
Tips on Hosting Virtual Classes
The world has gone remote. Working from home has become the new normal. Hosting classes, trainings, and meetings online is now a requirement for most organizations. Has your company adapted to remote management, or is it struggling to find that hybrid program?
Article
Leadership is Evolving – Is Your Team?
The world has changed drastically over the last several years. The business model is no exception. Leadership style has undergone significant changes with people now working in the office, remotely, and even hybrid schedules. Stress factors have also changed. Has your leadership style?
Connect with us
20225 Water Tower Blvd. Brookfield, WI 53045
© OCL Financial Services, LLC. All rights reserved.